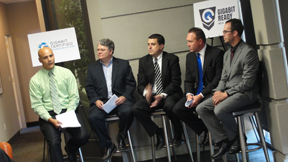 EAST LANSING, MI – A coalition comprised of economic development organizations and Michigan State University (MSU) announced today their progress toward increasing ultra high-speed broadband networks in the Greater Lansing region as part of the national Gig.U initiative. Gig.U, which represents a consortium of over 30 institutions of higher education across the country, was developed to assist communities surrounding higher education/research institutions in the U.S. in deploying ultra high-speed or "gigabit" broadband networks.
Progress outcomes include:
The creation of "Gigabit Ready," an initiative designed to assist Lansing area communities and businesses develop and deploy ultra high-speed or "gigabit" broadband infrastructure. Gigabit Ready partners are continuing to collaborate with a number of private providers in the region, including Spartan Net, Zayo, and Comcast, to increase demand and expand networks across Greater Lansing.
The launch of the Beta version of GigabitReady.com and its associated resources, with a planned full-scale launch in fall of 2012.
The unveiling of the "Gigabit Certified" Building Program. The Gigabit Certified program will offer to building owners, developers, and businesses currently connected to gigabit speed infrastructure the opportunity to certify their properties through a first of its kind building accreditation program.
In February, the Greater Lansing Gig.U coalition, comprised of the Prima Civitas Foundation (PCF), the Lansing Economic Area Partnership (LEAP), Connect Michigan, Michigan State University (MSU), and many regional partners, announced their goals of breaking down barriers and identifying opportunities for high-speed broadband in the region. Today's announcement marks the Greater Lansing region as one of the leading Gig.U communities in the nation.
As a result of Greater Lansing Gig.U's work, DTN Management, the owner and manager of many apartment and commercial properties in Greater Lansing, has teamed up with connectivity provider Spartan Net to begin outfitting all of their residential complexes, totaling more than 8,500 customers, with gigabit level broadband networks and services. DTN will also begin offering such services to commercial costumers and has already started using the ultra high-speed networks to improve the efficiencies of their everyday business operations.
"We believe that by creating a limitless broadband infrastructure, we can create infinite possibilities for our business and the community," said Richard Laing, CIO of DTN Management Co.
"Access to ultra high-speed broadband networks is increasingly becoming an invaluable asset for innovators, entrepreneurs and companies looking to compete globally utilizing the next generation of broadband enabled applications and software. Expanding such networks in our region is critical to the attraction of world-class talent and high tech businesses to the Greater Lansing region," noted Jeff Smith, Co-Director of the New Economy Division for the Lansing Economic Area Partnership.
MSU helped in the creation of the national Gig.U campaign and provided the impetus for the current Gigabit Ready effort.
"Widely available gigabit connectivity is critical for continuing to attract talented students, faculty and staff to the University as well as to our surrounding communities. University members want to enjoy the same access, speed and applications whether they are in the classroom, in the lab or at home, and they want to enjoy collaboration and regional quality of life opportunities that come with gigabit-provisioned businesses and organizations throughout the community," stated David Gift, Chief Information Officer at Michigan State University.
DTN Management, along with local development company the Gillespie Group and real estate firm CBRE will be partnering with Gigabit Ready to pilot the Gigabit Certified Building Program this summer.
"We are thrilled to work with Gigabit Ready in piloting this unique building certification program," noted Pat Gillespie, President of the Gillespie Group. "This program will surely give our developments as well as this region a competitive advantage in attracting new economy jobs and talent."
For more information and frequent updates about Gigabit Ready, please visit GigabitReady.com.